Australian Institute of Architects NSW Awards 2023
Bigge Street has been awarded for its design quality and contribution to the community.
The project's recognition by the design industry is an indication that social housing can and should be designed at the highest level.
Award for Residential Architecture - Multiple Housing - jury comments
Bigge Street Liverpool is an exemplar of a new and collaborative method of procuring social housing, delivering design quality and equitable living in an evolving outer Sydney centre.
A narrow, setback six-storey tower sits above a four-storey podium, respecting the prevailing setbacks and adjacent buildings. The pared-back palette of striated precast concrete in horizontal bands and vertical and horizontal louvres is modulated to maximise solar access to all aspects. Detailed balconies with level access provide additional living space and amenity.
The apartments are open and light, a model for equitable accommodation on a limited budget. The neutral, robust materials of the interiors feel spacious and generous. Social spaces are created in the open lobbies, providing natural ventilation, casual interactions and resident safety.
Ground level landscaping surrounds the building with varied spaces for gathering and relaxation, defined by materiality, seating and planting.
Designed for durability and longevity, this project is a model for the future of social housing.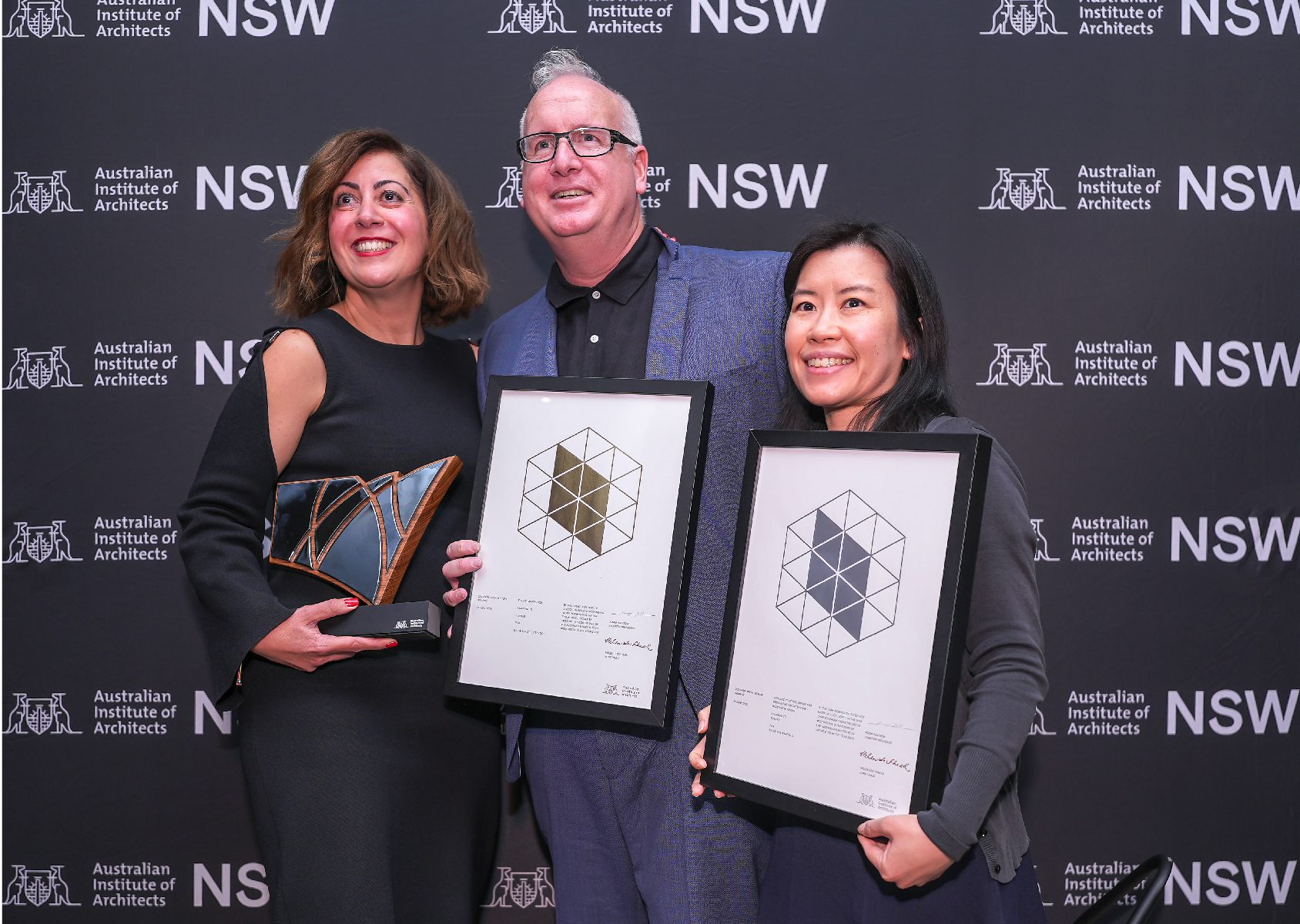 Premier's Prize - jury comments
The NSW Premier's Prize is awarded each year to the project considered to best exemplify commitment to the following criteria; the creation of strong communities, contribution to the public realm, establishing a new benchmark for a local area and innovation in design.
This NSW Land and Housing Corporation (LAHC) commissioned project provides much needed social housing in Sydney's south west. Bigge St demonstrates a high quality and thoughtful approach to delivering cost effective housing and shows that meeting the needs of our community is not dependent on sacrificing the architectural quality enjoyed by the residents and the community.
The building delivers high amenity with spaces that have excellent natural light, private outdoor space, are well ventilated, and have positive outlooks. The project skillfully meets the enhanced brief requirements for LAHC projects that focus on the long-term performance of the building, reducing maintenance costs and meeting the diverse and sensitive needs of residents. The choice of material and construction methodology, paired with a well-planned layout and a strong façade composition, result in a modern building that makes an important contribution to the local environment while providing outstanding homes for its residents.