Sanctuary - The Commercial Project
Sitting on the northern edge of Wentworth Point peninsula is Sanctuary by Sekisui House and Turner Studio.
Overlooking the foreshore of the Parramatta River and surrounded by parklands, this unique residential development cleverly balances design intent with liveability.
What's more, it highlights the Sanctuary team's commitment to creating a community that not only exists within but enhances this promising pocket of Sydney's west.
While exceptional in its potential, this site was destined for a run- of-the-mill development before Sekisui House secured it nearly six years ago, armed with loftier plans for its future. Together with architecture and interior design practice Turner Studio and landscape architects Turf Design Studio, the pre-existing mas- terplan was scrapped and redesigned. The resulting community development places precedence on human experience, with a true sense of place inspired by its proximity to nature. As Turner Studio Director James McCarthy says, "with the reinvention of the masterplan, Sekisui House has looked to more than double the green spaces.
They're providing a big foreshore of parkland, which will become a great asset for this group of apartment developments, as well as for the whole of Wentworth Point."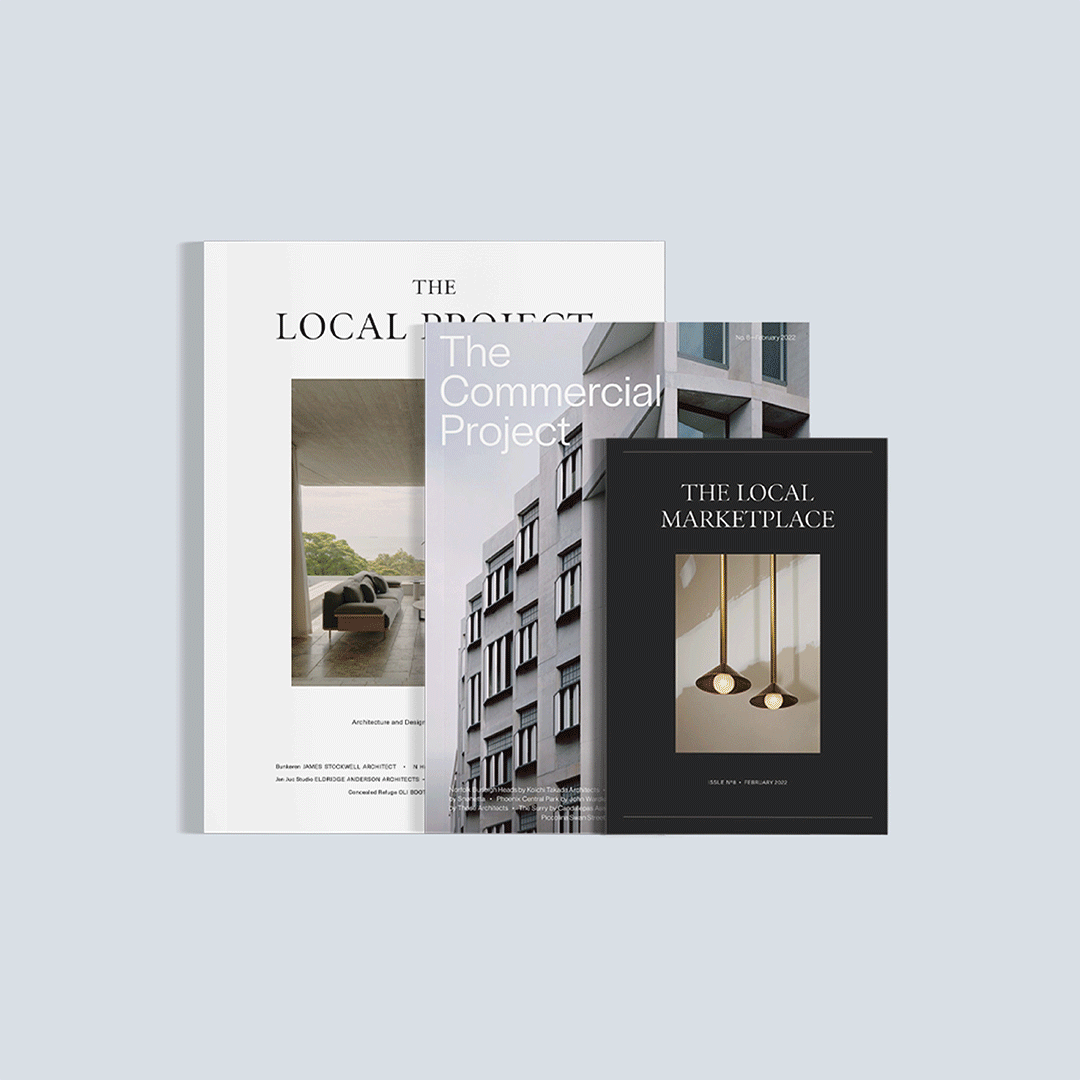 Nature's beauty and poetry permeate the design at every turn...
The entire project spans six stages with residential towers, extensive landscaping and mixed-use development across more than nine hectares.Sekisui House's Sales and Marketing Operations Manager, Paul Wainwright, explains that Sanctuary's design is driven by nature, "using natural materials and forms inspired by the site's location where the Parramatta River, local wetlands and parklands converge."
Nature's beauty and poetry permeate the design at every turn; the entry to Landing – the first stage of the project – is defined by a four-storey cascading waterfall, reflection ponds, lush palm trees and vegetation. The intention here is not purely for impact or aesthetics, but to instil a sense of arrival and gently recall the surroundings.
"When you're down at street level, it's quite a sensual experience," James says. "The sound of the flowing water seems to neutralise all the surrounding noises of buses and cars, and it calms and softens the arrival."
The presence of nature continues; the third stage is nestled amongst dense bushland, the form inspired by the "looseness of the landscape", while the fourth stage celebrates its proximity to water with swimming pools and water features along- side a conceptual interpretation of fluidity through the built form.
"The tan colour of the exterior is a reflection of the river's tones, and it changes depending on the time of day."
James McCarthy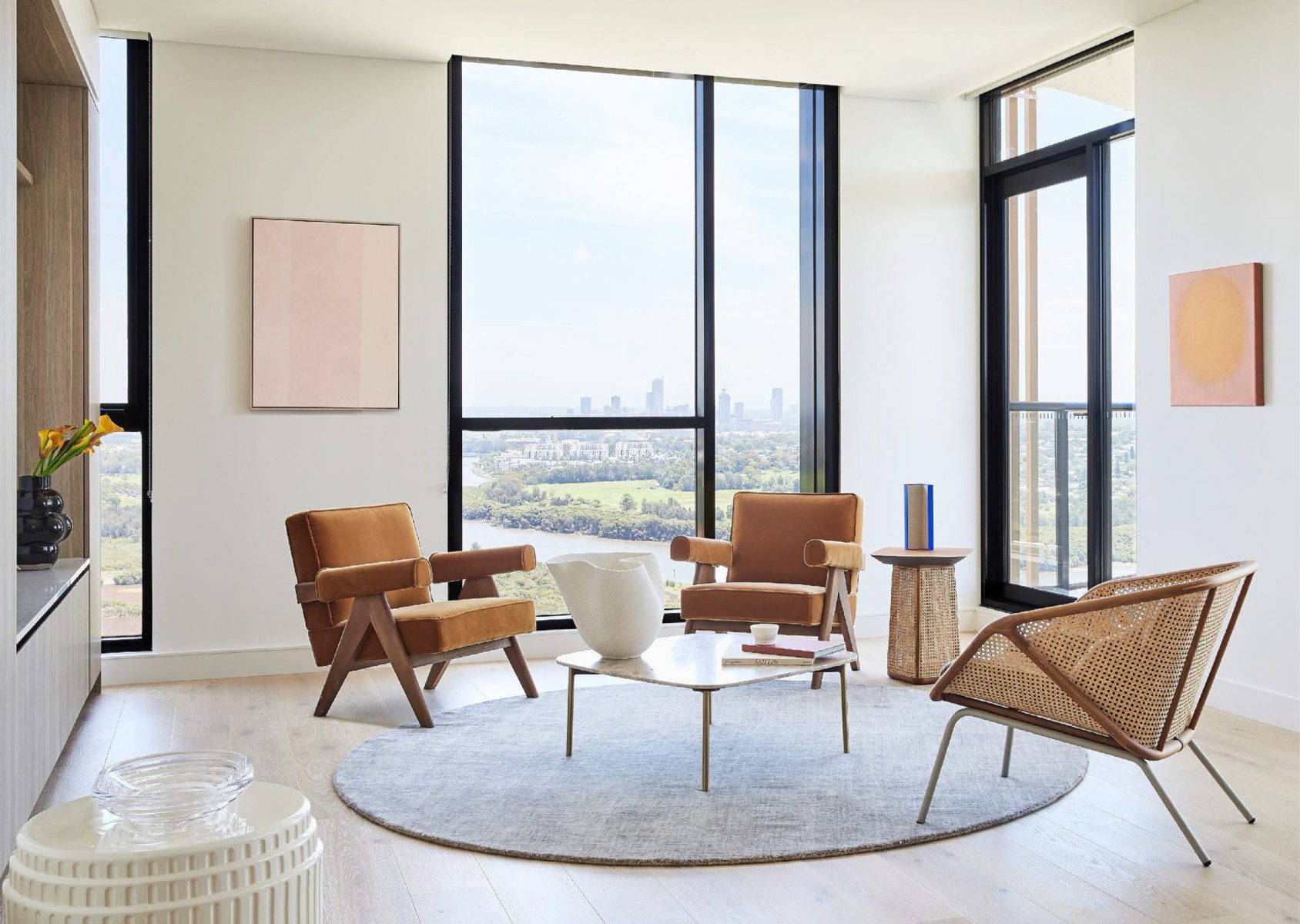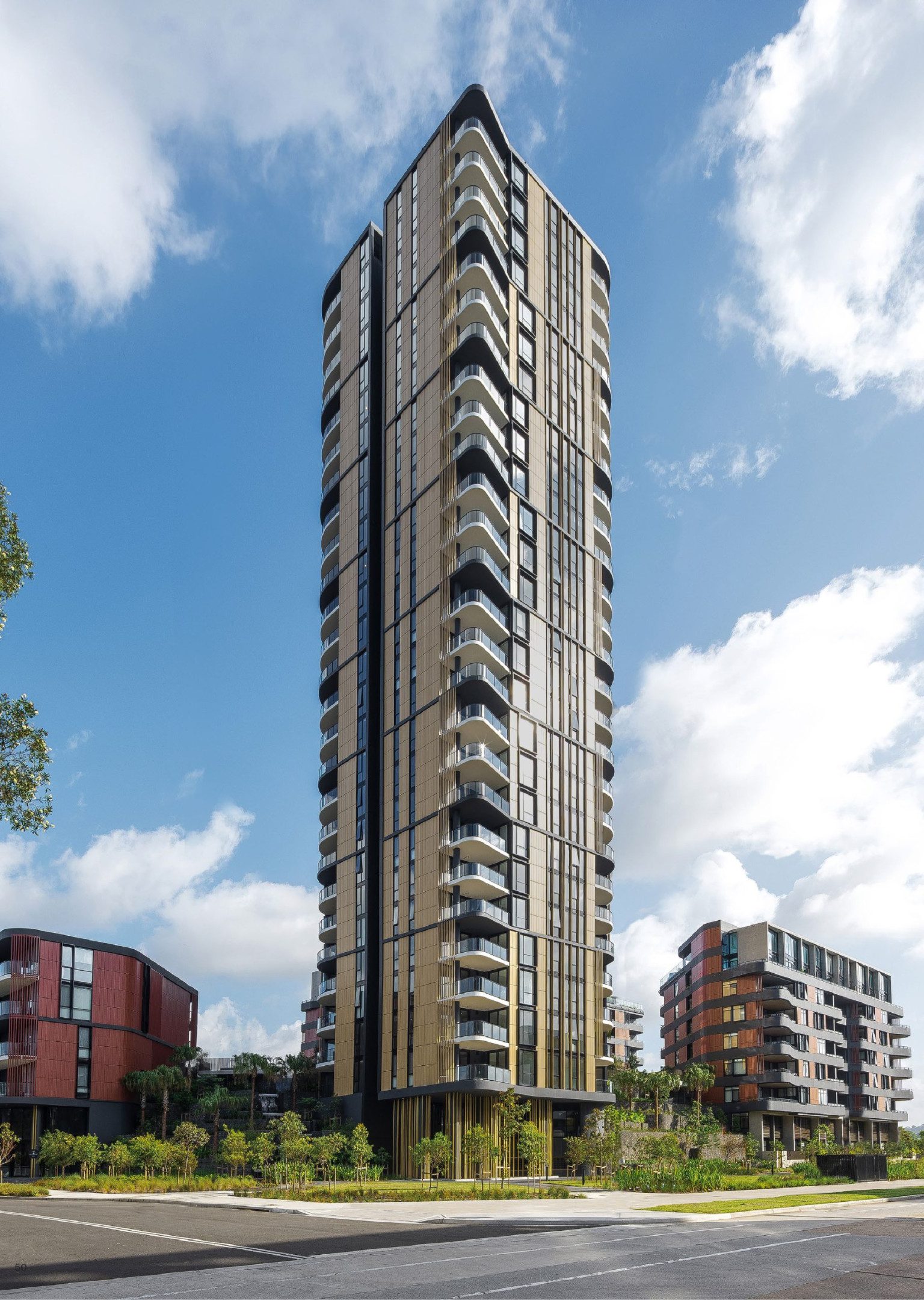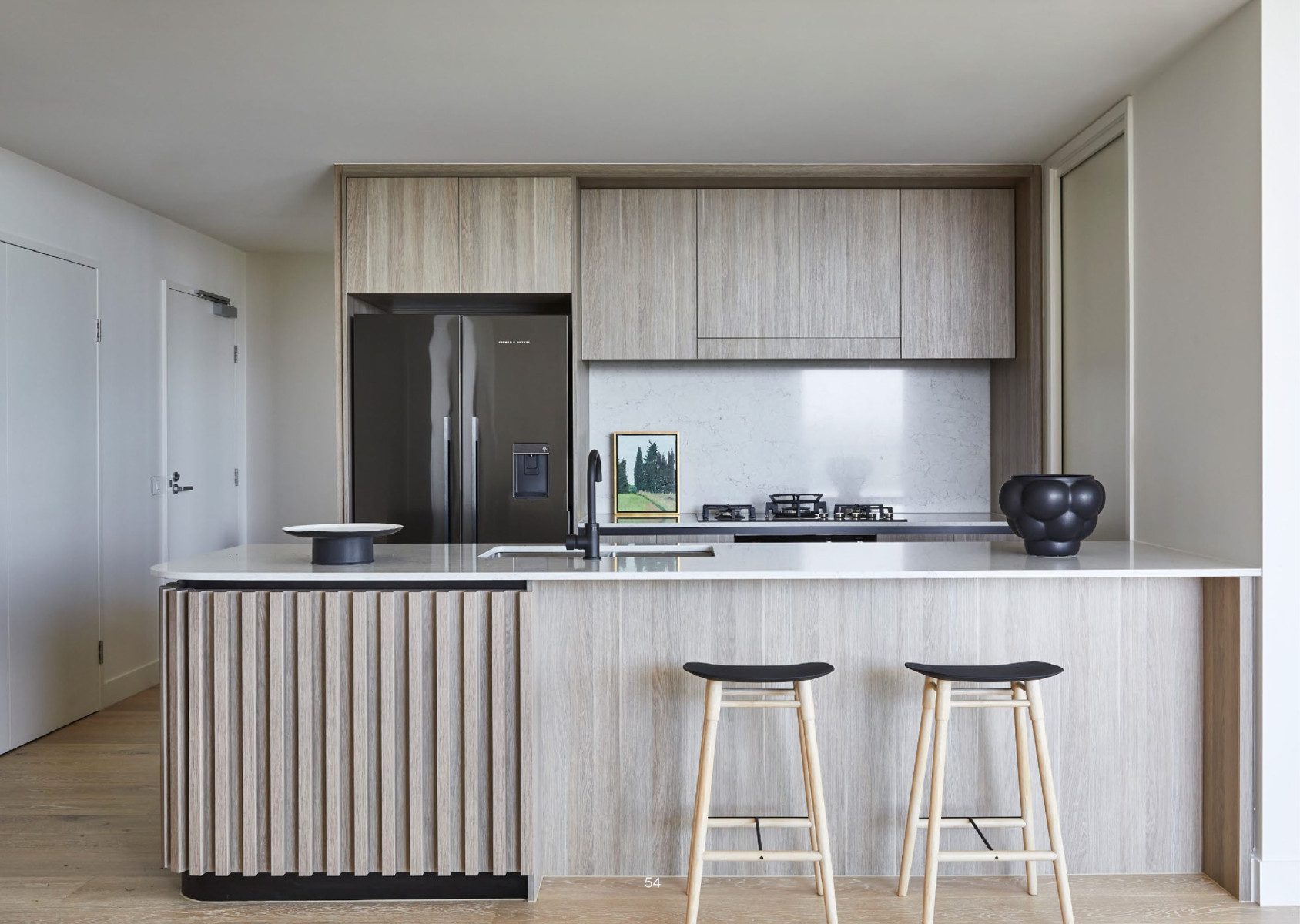 Materiality reflective of the natural site surroundings
This commitment to nature also informed the materials and tones selected for Landing's exterior. "We wanted to use an earthy and natural palette of materials," James says. "It's not about painted surfaces; it's about using materials such as terracotta that are low maintenance and high quality – they're going to look as good 20 years from now as the day they were finished on site."
Overall, the colours imitate the environment; there is maroon from the wetlands alongside creamy browns and muted tones with deep greens from the near-by mangroves. And the façade reflects its surroundings, blending in and softening the relationship between form and landscape.
"The tan colour of the exterior is a reflection of the river's tones, and it changes depending on the time of day," James says. "In the morning, it's fresh and glowing but into the evening, it's a much deeper golden."
For a project of this size, it was important to both Sekisui House and Turner Studio that a holistic approach be taken with the design. Resultingly, the interiors express a similar palette of materials and hues, and all way- finding and signage has been designed by Turner Studio, too. "There's consistency all the way through, with a real focus on soft curves," James notes.
Harnessing this softness, the interiors of each apartment are defined by rounded forms, warm timber and quiet details realised in either a light or dark scheme. Both complement the earthy palette of the exterior and feature plenty of storage and a generous selection of Fisher & Paykel appliances.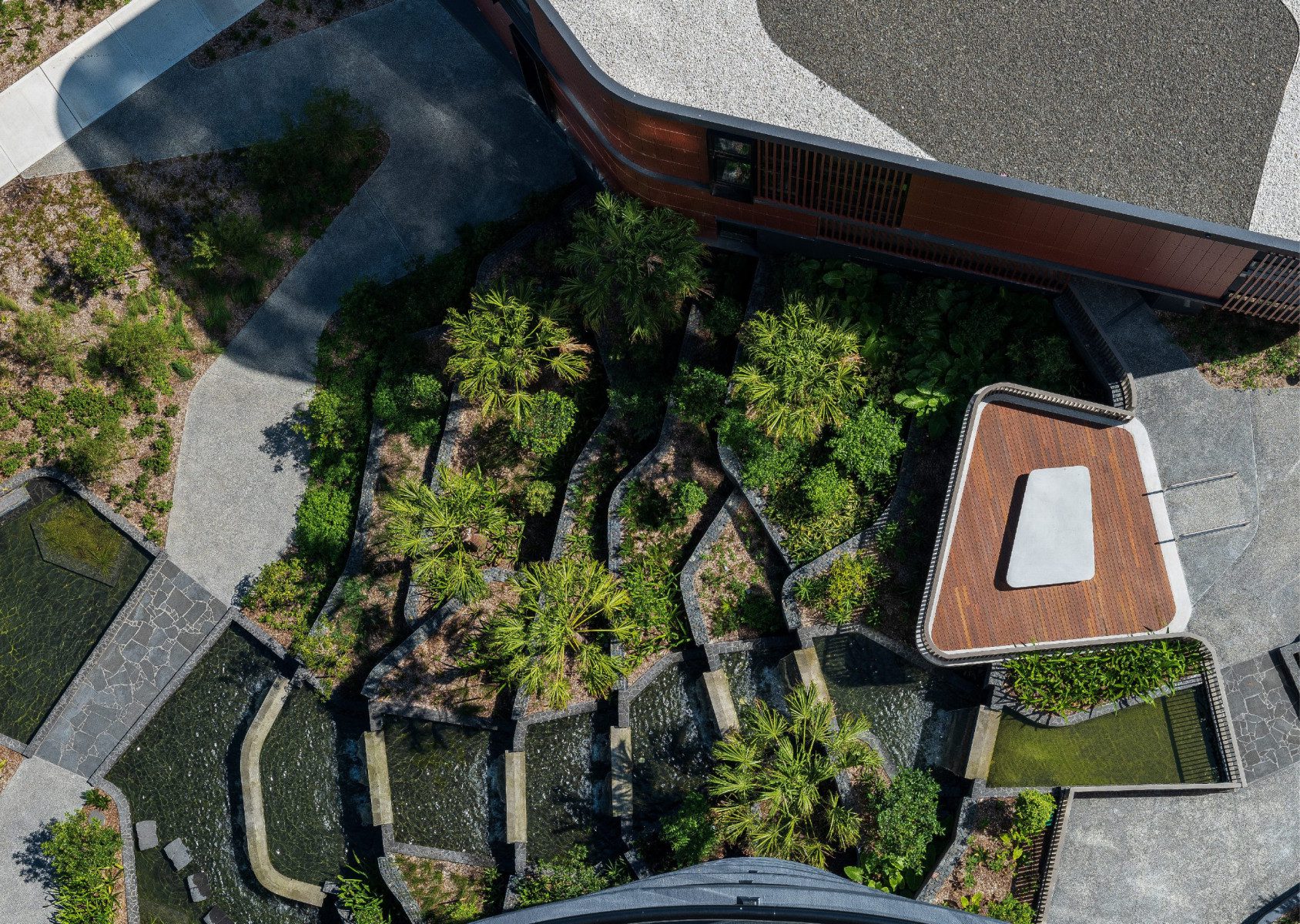 Designing communities that get better over time
As Senior Project Designer Amy Pacewicz says, pieces from the Fisher & Paykel Contemporary and Minimal Ranges integrate seam- lessly due to the beautiful simplicity and refined form. "The Minimal Range features sleek lines and a timeless black aesthetic, which is a key feature in the kitchens at Sanctuary," she says, adding that the integrated Double Dish Drawer dishwasher and rangehoods helped in creating a seamless joinery design, highlighting key pieces such as the 60cm built-in oven, Gas On Glass cooktop and black French door refrigerator. The sleek aesthetic of the appliances is fitting for both interior schemes, either contrasting with the warmer tones of the light or enhancing the shadowy, dramatic feel of the dark.
Amy also cites the reliability and functionality of Fisher & Paykel's pieces as key in ensuring high quality and long-lasting appliance performance. She reflects on the ease of working with Fisher & Paykel in delivering projects that require a certain level of attention to detail and versatility. "They're fantastic to work with as they understand the needs across a variety of projects and typologies and go above and beyond to ensure products meet our form, function and aesthetic requirements," she says. "The available products and ranges provide variety that can be used solely or in combination whilst always looking cohesive and contemporary."
This sentiment is echoed by Paul, who says Fisher & Paykel's philosophies around human-centred appliances are "very much aligned" with those of Sekisui House. "We design communities that get better over time, and Fisher & Paykel strive to create moments of delight in the heart of the home, now and for generations to come," he says.
As winner of the Urban Taskforce Award for High Rise Res- idential Development, Sanctuary's Landing champions high-density development models driven by human experience, and Paul credits Fisher & Paykel's "heavy emphasis on customer care and service excellence" as critical to this success. "We look towards our key val- ues of environmental, economic and social sustainability to engender further innovation and value creation within our developments," he says. "Fisher & Paykel's culture of open innovation allows collaborative insights that connect with customers and respect our planet."
Delivering a project of this size and scale demands a team of highly committed groups and individuals bound by the same goal. For Sanctuary, this pertains to creating and fostering a sense of community driven by landscape, and it is through deeply informed architecture and design that this goal is elegantly realised.
The Commercial Project – Issue 08, 2022
Words by Millie Thwaites – Photography by Pablo Veiga and Tom Ferguson